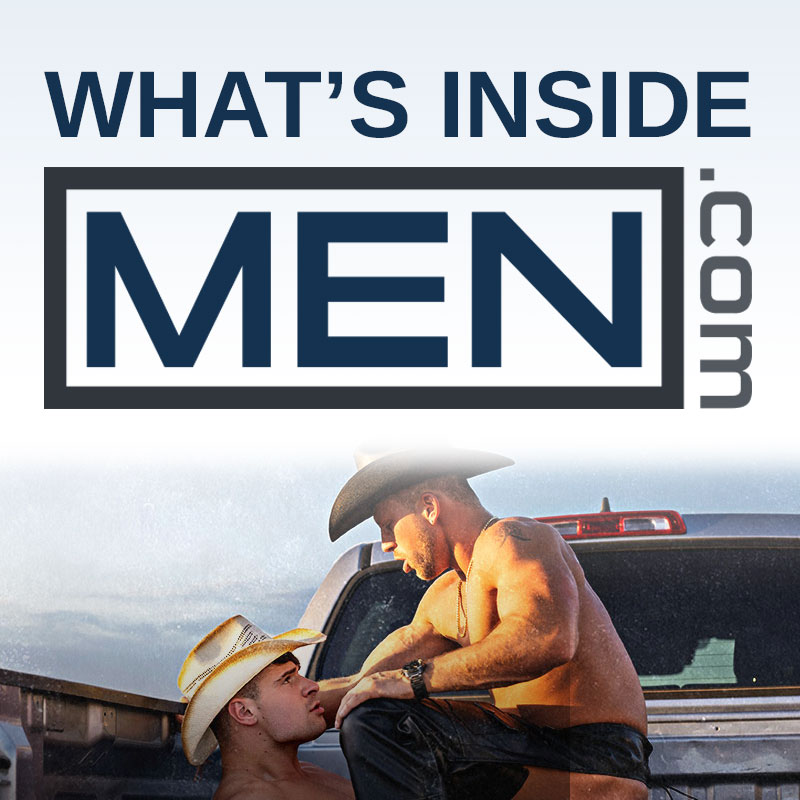 A couple of years ago, I had the job of describing the scenes on Men.com for a blog site. This meant I had unlimited access to one of the best gay networks online. Sounds good? It was, but it was also like working in a chocolate factory where they let you eat as much chocolate as you want, knowing that you'll soon get fed up with it. The thing is, at Men.com I never got fed up with the porn because there was so much variety. Although I felt I knew the cast intimately, I never really knew that much about the site and how it grew. So I thought it was about time I looked at its history and discovered more about Men.com, how it came about, and what makes it so popular. It was then, as it is now, an excellent gay hardcore network.
A brief history of Men.com
You can tell the guys behind Men.com were serious about changing gay porn. In 2003, they bought the domain name from entrepreneur, Rick Schwartz for $1.3M, which is a pretty big investment in a then unknown porn site. Gay porn wasn't an unknown genre, of course, and having decided they needed something to alter the course of gay porn, they set about the new venture with creativity and gusto. As the Men.com About page states: The site's mission was to redefine the genre and give fans what they truly wanted but weren't getting anywhere else.
So, what are we currently getting from Men.com? I had a look at what they are offering, who is appearing, and what people are saying about this powerhouse of porn, and here's what I discovered.
Videos and updates included in Men.com membership
As of August 2022, Men.com is advertising eight sites in one network. I'll give you a quick rundown of what's on offer, and what each site takes as a theme, but before I do, you might like to know that the current running total of combined Series stands at 3,492. A quick look at the update schedule tells me that where they once updated every single day, they now add between three and four new scenes per week. That's still better than most sites that only offer one update per week, and some only give you one per month. This also means that by the time you read this, the number of scenes at Men.com will have increased.
---
---
---
---
That is a very brief rundown of each of the sites, and if you want to know more, you only need to click on those links to find our reviews and take advantage of our discount memberships. Remember, when you join one Men.com site, you join all of them, so you only need to sign-up to one. If in doubt, sign up through our main Men.com page here, and you will be assured of a huge discount on the membership.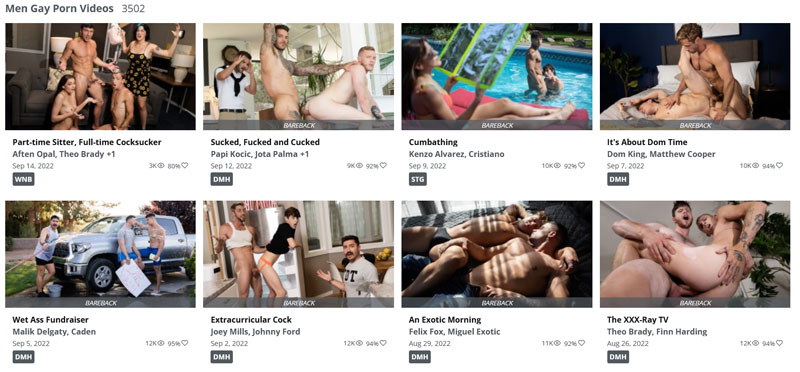 Top Men.com Pornstars
Not only does Men.com put out award-winning content, but it also employs award-winning stars. Even those who've not won an accolade through their work at Men are worthy of being nominated. The cast list at Men.com is varied, with some 18- and 19-year-old twinks appearing in sites like Big Dicks at School, and some older dads and many hunks appearing in Gods of Men, for example. The network comes with a model list of, currently, 1,142 guys, where the men are mainly white, but where there is also a fair representation of ebony, Latino and Asian guys.
Members can rate the models, as they can rate the videos and galleries, and it's not surprising to find many of the guys get a 100% score. Among the top men on Men today, you can find manly studs like Jeremy Adams, Jeremy Spark and Steve Vex. You also have a hot pack of jocks to meet, such as gym-fit Johny Forza, Eric Clerk and Luke Tyler. Then, there are the smoother, younger twinks such as blond cutie, Daniel Hausser, or big-dicked Bart Cuban and Matie. There are regular guys too, Connor Kline and Uijah, for example, and a host of guys who are more or less household names.
Within its model index, Men.com has a list it calls Top Models, and this includes Malik Delgaty, Diego Sans, William Seed and Johnny Rapid, who is fast becoming a popular jock, whereas co-performer Joey Mills is still very much a twinky bottom (and an award-winning one at that). Some of these guys are exclusive to Men.com, some are professional porn actors who work for many studios, and others are newbies who may only make one movie. What they all have in common, though, is star quality, because Men.com wouldn't settle for anything less.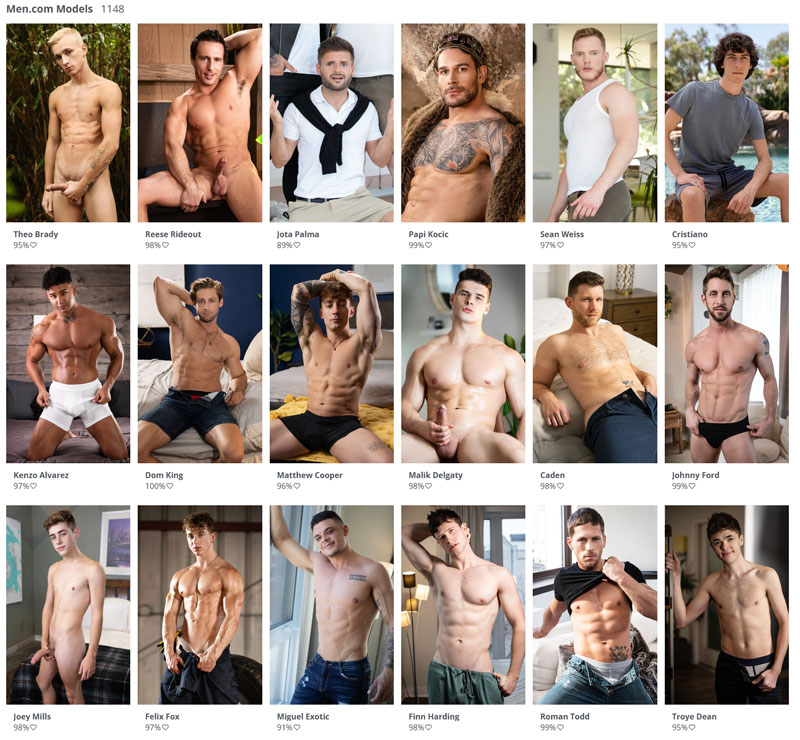 Reviews of Men.com
Here is what some of the top review sites are saying about Men.
Reviewed Porn
94.9/100
When this site reviewed Men, it contained nine sites, and the reviewer praised the varied fantasy scenes, as he called them; "office workers, suits and ties, students and teachers, and then rough tops and willing bottoms, orgies and jizz play." The reviewer's conclusion was that Men.com was great value, and I reckon he knew what he was talking about.
Gay Demon
Gay Demon knocked the network back slightly on useability and 'claims', which suggests they thought the tour claims didn't match what you find inside the members' area. I disagree with that. All adult-site tours exist to sell memberships, and some go out of their way to hype the site and give members unrealistic promises. Not so at Men.com where you get what you see on the tour. The reviewer liked the exclusive content, the guys, and the update schedule. They also pointed out that the site is mobile compatible.
Porn Inspector
4.9/5
Porn Inspector reviewed Men in 2020 when it was offering ten sites in one network. The site received a score of 4.9 out of five, losing half a point for the frequency of its updates. That wasn't surprising considering porn studios were suffering through the pandemic, and where Men used to update daily, they had to scale back and bring in bonus content to keep the update schedule alive. They were still able to present a 'Nut-busting scene every day', as the reviewer described it, and the review was as favourable as we'd expect.
Controversies
Men.com has seen its fair share of controversy, and my favourite one involved Justin Bieber. In the wake of what some described as his 'out-of-control behaviour', Men.com put out an advert featuring their then-exclusive model, Johnny Rapid. In it, Johnny invited Justin to come and make a porn scene with him for a fee of $2 million. Unsurprisingly, Bieber never took them up on the offer, but it scored some great publicity.
In January 2018, Men released a scene featuring heterosexual sex. Straight sex on a gay site? There was some debate about that. There was also some debate about the release of their bisexual porn later that year; should bisex porn appear on a gay site? In its defence, Men said, After asking our users what they would like to see, a surprisingly large number asked for a fully bisexual scene. The gay porn actor, Arad Winwin, who appeared in the scene, came under attack and was accused of 'converting' to heterosexuality and/or bisexuality and selling out. In an interview, though, he made it clear he was a gay man and, as a porn model, was simply doing his job.
Then, in February 2019, Men released their first scene starring transgendered model, Luke Hudson. He appeared in 'He's Always Hard for Me' alongside and under Dante Colle, and in April of that year, a second trans scene hit the Men.com pages. Some members complained, saying trans porn had no place within gay porn, but that didn't stop Men.com carrying on doing what they do best; making excellent porn. However, the owners of the company (by then, MindGeek) decided to start a separate venture for bisex porn, and opened up a studio purely for high-class bisex porn, Why Not Bi.
Men.com Awards
Between 2020 and 2022, Men.com won 15 industry awards. These included:
| | | | |
| --- | --- | --- | --- |
| | 2020 | Str8UpGayPorn Award | Best Supporting Actor, Michael Del Ray |
| | 2020 | Str8UpGayPorn Award | Favourite Gay Porn Studio |
| | 2020 | Grabbys Award | Best Supporting Actor Colby Tucker |
| | 2021 | Grabbys Award | Hottest Bottom, Joey Mills |
| | 2021 | Grabby's Award | Best Screenplay, Tom of Finland |
| | 2021 | GAYVN Award | Best Fetish Scene, Tom of Finland |
| | 2022 | Str8UpGayPorn Award | Best Newcomer, Felix Fox |
| | 2022 | Str8UpGayPorn Award | Power Bottom of the Year, Joey Mills |
And the ultimate:
| | | | |
| --- | --- | --- | --- |
| | 2022 | XBIZ Award | Gay Site of the Year, Men.com |
Is a Men.com membership worth it?
Whatever you think or say about Men.com, there is no denying it is one of the most popular gay porn channels on the net. It is also one of the best in terms of quality and variety. Every video can be streamed or/and downloaded, there are frequent updates, top stars and new guys, and the quality is outstanding. What's more, it's packed with original content and carries a few bonuses, is totally interactive and very well maintained. No wonder, then, that memberships are usually on sale for high prices, but you can avoid them by signing up through our discount Men.com page. Once inside the members' area, you will be able to see why Men.com has become such an internet sensation.
Read Our Detailed


Men.com Review
OR
Join & Save 73%


Click Here To Join Men.com