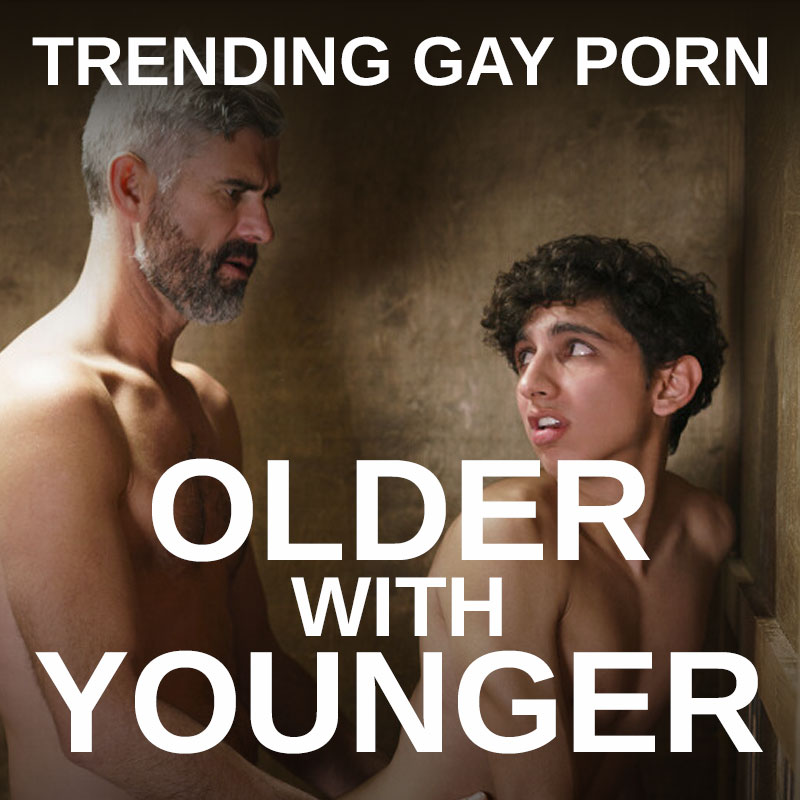 Gay erotica dates from before gay meant gay, before Thomas Eakins painted homoerotic depictions of naked young men, and before the age of Victorian erotic photography. If you want to read one of the most famous accounts of gay life in the 19th century, then search out a copy of 'Sins of the City of the Plain.' Allegedly written by notorious rent boy, Jack Saul, and published in 1881, for all its Victorian language, this work is considered the first piece of exclusively homosexual literature. Much of the 'action' takes place between the 19-year-old rent boy hero and older men, so we could say that the first gay porn story concerned what we now call the older & younger niche.
This niche is not new to modern porn, though it took some time to become established. Some call it intergenerational, others call it older-with-younger, and in the early days of the internet, it was called 'Dad & Son' porn. You can search the archives of 1970s porn movies and find classics such as Boys in the Sand (1971), or Passing Strangers (1974), where the characters are of the same or similar age, but it's not so easy to find the male-male version of, say, Lolita. Older/younger scenes exist within old movies if you can find the reel or the videotape, but intergenerational didn't become a recognised niche of its own until the dawn of the internet. Before then, you could find a magazine about twinks, one about jocks and one about studs, but rarely, in print, did the ages mix. Ditto blue movies in the movie theatres where guys went to view and meet, get off and go home.
I should stress here that when we talk about dad & son porn, we're talking pure fantasy, and the sons are of legal age. That's one of the added frissons of older & younger porn. It comes close to the age restriction boundary, in the way its later manifestation 'stepdad & stepson' plays with the idea of incest.
I remember first seeing classic dad & son porn not on an established premium site, but on one of those 'upload your own' amateur sites. In fact, for a while in the 1990s, it was just about the only place you could see it, and the short clips were usually horribly grainy and depicted chubby old men with paid-for Asian boys in hotel rooms. It wasn't everyone's cup of tea, but it gathered a good following. Not long after the porn-on-the-net explosion, various sites grew up that had occasional scenes with older men fucking 18 + teens or twinks in their early 20s, and the 'dad & son' niche grew from there. Not every site got it right, and several still don't. I am thinking of sites where the older men are 30-something and their 'boys' are in their late 20s. For the frisson to work, you need a clear definition between the ages, such as we find on sites like Yes Father. (That site adds in the taboo of priests and altar boys as if 40 + guys with 19-year-olds wasn't exciting enough.)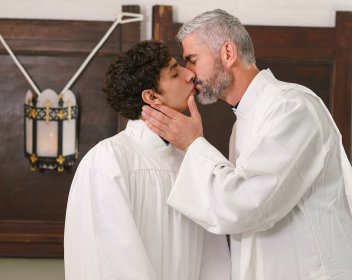 Long before Yes Father and similar sites came along, though, there was an uprising against the term 'dad & son.' The guardians of moral standards, those who rightly watch the internet for illegal porn, decided that the term was too provocative. Doing the right thing, many gay porn companies agreed and dropped the term from their tags and metadata. Yet the amateur, self-submit sites had started something for which there was an enormous demand, but the mainstream gay sites weren't able to promote it for fear of being thought immoral or perverted. Older/younger, dad & son sex was too popular to ignore, however, and something had to change, but what?
The niche continued in various guises and without using the terminology. I'm thinking of various sites I reviewed in the early 2000s that were set in boarding schools. In a British boarding school, the oldest pupil is 18. So really, they should have been setting their fantasies in a 6th form college, or the early years of university, but then there wouldn't be the excitement of the age gap. 'Pupils and teachers' doesn't have the same ring as dad & son though, and thus, the porn world had to keep thinking.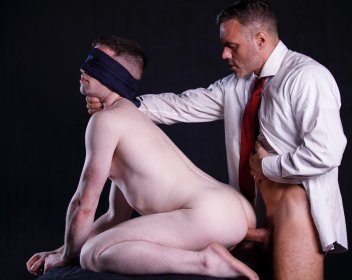 Today, various sites present the older & younger niche in different yet obvious ways. Missionary Boys depicts older men initiating younger men into their 'church' through sexual rituals. Yes Father, as we've seen, mixes Catholic priests with young guys. There is an entire cabinet full of medical examination fetish sites where the doctors are old and the patients young, and there are various sites that cling to the teacher and pupil fantasy because, let's face it, it works. Big Dicks at School is one such example.
Even so, porn still hadn't found an acceptable alternative expression for 'dad & son.' Or did it? Various alternatives were tried, but intergenerational porn sounded too clinical and wasn't very catchy. Older/younger covered it and is suitably vague. Older with younger is the same. Dilf and Twink porn might have worked, as might have bears and boys, daddies and dudes, man and boy and various other combinations, but nothing really stuck. That's because nothing sounded as naughtily alluring as dad and son. At least it didn't until someone came up with the bright idea of the taboo stepdad.
I've been reviewing adult sites since 2007, and I've just trawled through the list of sites I've seen. I couldn't find anything that referenced 'dad & son', which makes me suspect the term fell out of use; kind of, got sent to the corner with a telling off. Missionary Boys pops up in 2010 under its original name, but it wasn't until the idea of stepfamily taboo came to the gay world that things really took off. Now, we don't say 'dad & son' we say step-sex, or fauxcest (pretend incest), or Stepdad, Daddy and his boy, daddy and his stepson, or even uncle and step-nephew. It's like, once the gay porn word decided it was safe to get back in the older/younger water, things went wild. Some of the most popular sites today are those that depict older guys with 18 + teens, or stepdads with their step sons, uncles and (step) nephews, or the older/younger possibilities presented by the movies set in schools, churches and even security guard offices. These taboo sites are bursting with members, and if you want to see why, you only have to follow the links for these examples.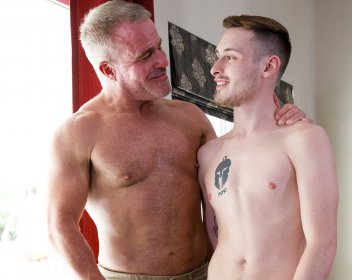 Top of my list for age-gap taboo (another name for it) must be Family Dick. The company behind this ground-breaking site introduced us to the incredibly young-looking 20-something-year-old Austin Young, aka Austin Many-names. This site is pure stepdad/son taboo and goes out of its way to find the youngest looking 18 + guys and older men with impossibly big dicks. A close second comes Boy For Sale where 'boys' are sold as playthings, and the older studs get to do what they want with them in atmospheric fantasy scenes. However, if you want the best package, with several sites on the theme, then you want to check out either Say Uncle or Carnal Plus because both give you older/younger taboo, and plenty of included sites under one discounted membership.
Gay porn has come a long way since the days of submit your own dodgy hotel sex videos, and now dad and son porn has become fauxcest, stepdad porn. The quality of what we get for our membership fee has improved so much, and these taboo, intergenerational movies are so real, I wonder how long it will be before the moral busybodies light their flaming torches, and we have to think of yet another name for older & younger porn.