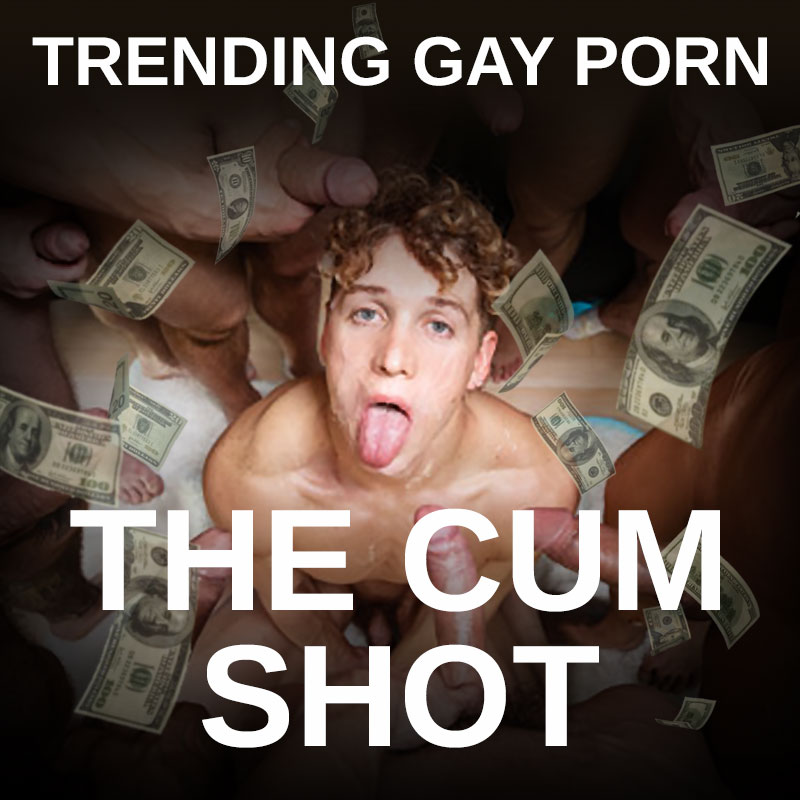 Here are some statistics for you. A survey carried out by the Archives of Sexual Behavior in 2016 found that 98% of gay men surveyed had watched gay porn, and 55% had watched hetero porn. Of the straight men surveyed, 99% said they had watched straight porn, and 21% had watched gay porn. That's all well and good, but what I want to know is how many gay men who watch gay porn watch the entire scene?
Put your hand up if you have ever skipped through a gay porn movie. I imagine I am counting around 98% of everyone reading this. I know I rarely sit and watch a gay porn flick from opening credits to final fade, and I am sure I am not alone. Admittedly, there are times when a couple put on a porn flick and let it run to the end, but they are probably getting down to their own hardcore on the settee while it's running. I'm talking about watching all 25 to 40 minutes of set-up, foreplay, hardcore, cum shot and fade. I'll lay you ten to one that most porn viewers watch the opening to see who's in the movie, skip through to the part where they've got their cocks out, skip to the hardcore part and maybe let that run for a while, then skip to where they think the cum shots should happen.
That's a trick in itself; winding forward to where you think the guys are about to shoot, only to find you peeked too early and have to wait another full two minutes before you see what you came in for; the cum shot.
My point is, when we sit down to get off with a porn flick, what we are actually doing is waiting to see a man ejaculate, and the cum shot is arguably the most important part of the scene. It's what the models get paid for. It's the 'money shot', that moment after the 'vinegar stroke,' the last tug or lick when there's no holding back and you just can't stop the flow. The cum shot is the reason we sit through 20 minutes of a solo guy stripping, fingering his ass and playing with his dick, and it resonates with us because we're doing the same thing. We're watching porn so we can get off with the models and by that, we mean, cum with the guys. At least, it is for most of us who watch porn while we masturbate. I know some guys watch it to get them in the mood, then switch it off and go for the real thing un-visually aided, but even then, it's all leading to the cum shot; our own, or someone else's.
How the Cum Shot Works in Gay Porn
The 'money shot' has always been integral to gay porn, and I am not talking erotica where the final pop is left to the imagination; I'm talking full-on solo, duo, group scene sex. In his book 'Elements of Arousal: How to Write and Sell Gay Erotica', Lars Eighner says that in an erotic story, there should only be one ejaculation; cum shot, in visual terms. This is because the reader should be in the role of only one character in the story and he is the important one, thus, the only one who should cum. If the partner character is also going to pop, it should be subtle, off-screen, and almost inconsequential. That reasoning backs up the notion that when we watch porn, we do it to be a part of the scene and to get off with the main character, sometimes at the exact same time.
If you're watching a top Vs bottom scene, it'll be the top's cum shot that's the most important. When you're watching an older/younger, daddy & stepson scene, it's the daddy whose jizz counts, and the bottom boy is almost secondary to the action. In some porn, the characters are equal and both cum shots get equal attention, and that works well when both models cum at the same time, and they cum externally. Usually, though, even if both guys cum, there's one main guy on whom we focus. He's the one who will pull out, grunt as he shuffles into place, and aim his cock at the bottom's face, there to unload a wad of the white stuff. Or he'll be the one who pulls out and jerks into the bottom's mouth. The point remains, as Eighner says, both guys might cum, but there's only one cum shot that counts.
Different Cum Shots in Gay Porn
Another thing that makes us skip to the big moment is to discover what kind of moment it's going to be. Everyone has a favourite kind of cum shot. There is the facial I just mentioned, and the cum-in-mouth moment. There's also the cum-on-chest finale. Often, that's the bottom boy's jizz because he's riding the top reverse-cowboy style and jerks off while being fucked. Then you have the classic creampie, where the top pulls out and unloads on the bottom's recently fucked asshole, or over his ass cheeks depending on what position he is in.
In the days of condom sex (which is still not extinct), there was a trend to cum inside the bottom guy, pull out, and make him drink the juice straight from the rubber. You can still find this kind of thing on fetish sites, where there's a growing trend of cum-play, cum drinking and cum-everything nasty. [Check Bareback Cum Pigs as an example.]
A more recent trend has grown up around the dad/son and taboo scene, a niche which is on the rise. Here, we're seeing more and more cum shots where the top guy, usually the 'dad', pulls out at the last minute, shoots on the boy's hole and immediately plunges back in. It's a half-internal cum shot and comes across as though the porn makers are trying to reinforce the unsafeness of the bareback. It's like saying, 'Hey, I've cum outside, but I still ain't being safe.'
Internal Cumshots
I was reviewing a site once, and it sold itself on its internal cum shots. I was still new to the biz back then, and I wondered how the camera got inside the guy to shoot the shoot, as it were. Of course, it only took me one scene to figure it out, but I wondered how many guys want to see such things. After all, you can't see the jizz, can you? Having watched a couple of movies where one guy cums inside the other, I now find them among the most erotic kinds of cum shots, especially when the bottom guy reacts to the hot spurt he feels while the top guy spasms helplessly over him.
Following on from the internal cum shot comes what I call the 'proof moment.' Imagine: a studly, hung top fucks a cute little thing until he cums inside him. He pulls out and the bottom boy presents his ass to the camera. Then comes the cum, back out from where it was dumped to dribble down his leg, or drip from his battered hole. You get double for your money with this kind of internal/external cum shot and you can see loads of it on sites like Yes Father and the Say Uncle network.
| | | |
| --- | --- | --- |
| Yes Father | 68% Discount | Only $7.99 (Normally $24.95) |
| Sayuncle | 60% Discount | Only $24.08 (Normally $59.99) |
Where to Find the Best Cum Shots
The cum shot is the climax of the gay porn movie—pun intended. But where are we to go to find the best? Which sites capture that vital moment in exciting ways? Who has the best cum shot movies? Here are a few suggestions to keep you and 21% of straight men happy:
Solos
If you want solo guys jerking off and cumming, then take a look at Wank Vids, but if you like straight guys jerking off, see Straight Naked Thugs.
Bareback
For guaranteed bareback hardcore and a variety of cum shots, you want somewhere like Breed Me Raw, the 'Raw' being bareback, of course. If you want taboo hardcore with stepdads and their stepsons, size difference, big dicks and tiny asses, then you want the taboo bareback at Gaycest.
| | | |
| --- | --- | --- |
| Breed Me Raw | 67% Discount | Only $9.95 (Normally $29.95) |
| Gaycest | 58% Discount | Only $11.83 (Normally $27.95) |
Foot Fetish
Try Toegasms for cum-on-feet and foot fetish porn, and try My Friend's Feet for more straightforward foot fetish porn.
Cum-on-self
There's only one way to cum on yourself and that's to give yourself a facial. Test out Self Sucking BFs for the best in autofellatio, followed by self-facials and self-cum eating.
These sites are available at a discount, and all the details are on their review pages. If you want to check the full list of discounted sites according to their categories, then see our best gay porn sites pages.
Rest assured, whether you're one of the 98% of gay viewers, or the 21% of straight viewers, you're guaranteed cum shots in 100% of these gay movies.